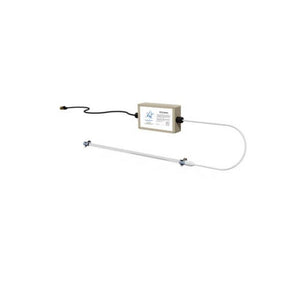 The Eco Pure series is designed as an economical choice for on-coil use in both commercial and residential HVAC systems.  It is designed with the lamp separate from ballast so the lamp can be installed in tight spaces.
Features
High Output UVC lamps produce 2 watts per inch of bulb length.  (ie: 16 inch bulbs produce 32 watts, 20 inch bulbs produce 40 watts, etc.) 

Lamp lengths from 16" to 60"
Low mercury lamp
Watertight connection between lamp and lamp cable
Encased ballast with power cord
110-277V, 50/60Hz for worldwide operation
One year lamp / Five year ballast warranty
Lamp mounting clips included
**What about Watts?  Most UVC lamp sellers focus on wattage.  They propagate the thinking that the higher the lamp wattage, the more powerful the effects of the unit.  However, the lamp wattage stats show how much power the lamp uses.  What is much more important is the lamp OUTPUT or intensity, which is measured in units of microwatts per square centimeter.  Our lamps are rated to produce 11.7 microwatts/cm2 per linear inch of lamp arc length at a distance of one meter. This output has been independently tested in airstreams of 400 feet per minute velocities at temperatures of 45 degrees F (replicating the real life conditions inside an air handler).  So, keep in mind that UVC light is about time and intensity, not just energy usage in watts.  
Replacement bulbs available HERE
Replace bulbs every 1 year